Visitor Information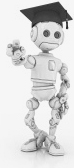 BSUIR plays a leading role in the training of engineering and scientific staff in the fields of computer science, radioelectronics and infotelecommunications in the education system of Belarus. Annually over 500 international students are studying here for a highly-profitable profession & world acknowledged degree.
Read more  

 About BSUIR
Location
The University Campus comprises 7 educational buildings and 4 comfortable student hostels, which are scattered in the central area of the Minsk City. Each building or hostel has a convenient connection with public transport (buses, trolley-buses, trams and subway) and is situated within 15 min. walking distance from each other.
Minsk in brief: capital of Belarus, a 945-old city with about 2 million inhabitants. It is a modern European city with a well-developed infrastructure and is known as the cultural, scientific and industrial centre of Belarus. Minsk has excellent communication links for all types of travel (by air, rail or land, with direct routes from most European and CIS countries).
Looking for information about Belarus or how to reach Minsk? Searching for a touristic guidebook round Minsk? See:

 Belarus online!
http://www.belarus.by/

 Minsk Information Tourist Center
http://minsktourism.by/

 In Your Pocket
http://www.inyourpocket.com/belarus/minsk
Navigate the  

BSUIR Campus Google Map or find the building, faculty or other unit you are searching for on the  

 scheme.
Dining
A special Catering Unit provides dining services for the University students, staff and guests. Each University building and each hostel has at least one place for food & drink.
Lots of restaurants, cafes and snack-bars can be easily found in the nearby area.
BSUIR: The Official Guide
More detailed information can be found in the University's official 90-page illustrated guide. It provides a deep insight into:
history of the University
BSUIR structure
study programmes
research activity
cultural, social and sport activities
Download  

BSUIR Official Guide
Presentations about BSUIR
About Education and Research in English or Russian.
BSUIR International