Master Degree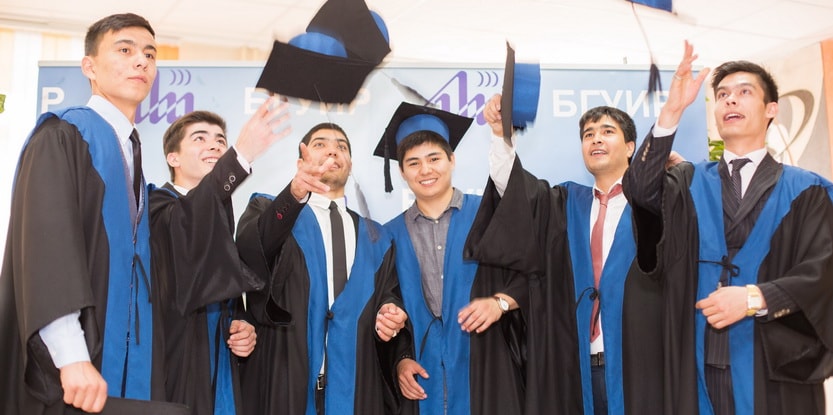 Taking a Master degree programme is a good way to improve your professional level and gain a higher qualification. The Belarusian State University of Informatics and Radioelectronics offers Master degree programmes of two types in such vital fields as Computer Science, Computer Engineering, Radioelectronics, Micro- and Nanoelectronics, Infocommunications, Digital Economy, etc.:

‒ practice-oriented Master programmes provide a deeper training of professionals, who upon graduation will be able not only to use the existing technologies, but also to develop innovative products and offer landmark decisions;

‒ research-oriented Master programmes provide training of researchers, who intend to enter Ph.D. programmes and become scientists.

Handbook 2023

Graduates of BSUIR Master's degree programmes are granted the degrees of Master of Science in Engineering, Physics & Mathematics, Informatics & Computer Engineering or Economics. Successful Master graduates may proceed to PhD degree programmes.

BSUIR degrees and qualifications are internationally recognized in as many as 80 countries of the world, including the USA & Canada, countries of Europe & the Commonwealth of Independent States, Middle East & Asia, etc. Visit the Belarusian System of Higher Education page to learn more about Belarusian university types and degrees, state policy on higher education & main tendencies and achievements.

Having launched the 1st degree full-time English-medium study programme in 2009, BSUIR boasts 10 first degree and Master degree programmes. The first Master students were enrolled to the programme Methods and Systems of Information Protection, Information Security in 2010. Today every 3rd international student at BSUIR is studying in English. Read More

Master programs are individually-tailored and provide a deeper study in the focus subject area, research work on the chosen topic, preparation and defense of the Master's thesis. Research-oriented Master programmes curriculum involves additional training on research skills and preparing for a Ph.D. programme.

The BSUIR Master degree programmes last for two years for Bachelor degree holders. Master degree programmes Academic Calendar differs between full-time and part-time modes of study. As a rule programmes start on September 1 and last till end of May-June with 2 breaks for vacations.

By studying in BSUIR, you can receive a high quality education in a friendly and welcoming environment for a reasonable cost. The University's tuition fees are not so high as in other engineering universities in the neighboring countries and vary depending on the study programme type and language of instruction. More information at Tuition Fees & Costs and Majors & Degrees .

! Note for international students:
Foreign citizens need to prove that their Bachelor of Science degree is equivalent to the respective degree in the Belarusian system of higher education to apply for one of the University's Master programmes. How to Obtain a Certificate of Equivalence?

How To Apply?