VADIM BOGUSH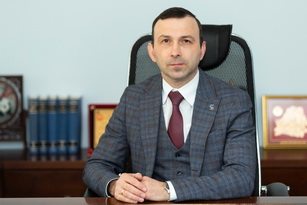 Education: graduated from the Faculty of Radioengineering and Electronics, BSUIR in 1997
Qualification: Engineer of Radiotechnical Systems
Academic degree and title: DSc in Physics and Mathematics, Professor
Work experience:
Vadim Bogush was born in 1975 in Bobruisk, Mogilev region. In 1997, he graduated from Belarusian State University of Informatics and Radioelectronics and enrolled in postgraduate studies the same year. His career in BSUIR started from an assistant, then associate professor and later a doctoral student.
In 2000, he defended a thesis and got a Candidate Degree in Engineering. In 2005, he became an associate professor in the specialty "Electronics and Microelectronics", and in 2007 he received a doctoral degree in physics and mathematics.He worked as Head of the Department of Metrology and Standardization in BSUIR, then Vice-Rector for Education, Vice-Rector for Scientific Work in the Academy of Public Administration under the aegis of the President of the Republic of Belarus, Deputy Chairman of the National Statistical Committee of the Republic of Belarus.
On July 1, 2014 he became First Deputy Minister of Education of the Republic of Belarus.
As of May 24, 2018 Vadim Bogush is appointed Rector of Belarusian State University of Informatics and Radioelectronics.
Scientific and professional experience:
His scientific interests are related to the study of safety management, electromagnetic and information security in technical systems, development of basic theory and methods for creating new elements and materials for electronic engineering, including micro- and nanoelectronics; development and application of information and communication systems, services in management systems, educational process and scientific activity.
Vadim Bogush is the author of more than 140 research, teaching and methodical works, including 5 monographs, one of which was individual and another one was published abroad, more than 40 scientific articles in peer-reviewed journals, 4 patents of the Republic of Belarus, and 8 teaching aids. Master theses are defended each year under his guidance.
Family status: Married