Belarusian System of Higher Education
OVERALL DESCRIPTION
The Belarusian system of higher education includes educational, research and governing institutions that use unified official standards and regulations in the processes of teaching, management, assessment and research. Higher education is under the supervision of the Ministry of Education, which is responsible for the accreditation and licensing of HEIs and developing and implementation of the educational standards. It is the Ministry of Education of the Republic of Belarus that oversees the running of the current educational systems. The current structure of the educational system was established by a decree in 1994. In 2016, Ihar Karpenka was appointed the new Minister of Education.

• State policy on higher education
The national education has traditionally been one of the core values of the Belarusian people. According to the policy established by the Ministry of Education, there are four main educational principles: state (public) nature of management, accessibility and equality, quality and the last, but not the least — financial efficiency of the activities of higher education institutions (HEIs).

• Main tendencies and achievements
The education in Belarus is aimed at preparing creative, intellectually and physically mature individuals. Main strategic objectives for education development are quality improvement and contribution to creating a competitive economy based on high and advanced technologies (as indicated by the National ERASMUS+ Office of Belarus).

A number of evidences support the achievements made in Belarus since its independence in 1991, such as: certain MDGs (Millennium Development Goals) achieved ahead of schedule, a high level of human development and political, socio-economic and inter-ethnic stability.

More: Belarusian Higher Education (PDF)

• The Bologna process
1999 The Bologna Declaration stating the three overarching objectives: introduction of the three-cycle system (bachelor/ master/doctorate), quality assurance and recognition of qualifications and periods of study (Bologna, Italy).

2005 Belarus announced the intention to make its higher education system similar to the ideas proclaimed in the Bologna Declaration.

2008 New standards of HEIs study programmes approved by the Minister of Education of the Republic of Belarus (standards are based on a competence approach and contain ECTS units (units of the European Credit Transfer and Accumulation System).

2012 The first attempt of Belarus to enter the Bologna process. Belarus was advised on the achievement of three main paragraphs: academic freedom, institutional autonomy and integration of student community into the higher education management system.

2015 Belarus is accepted to the Bologna Process and the European Higher Education Area (Conference and Forum, Yerevan, Armenia).

Prospects: The Bologna Declaration launched a series of reforms to European Higher Education. However, further reforms are needed to make Belarus more compatible, comparable, competitive and attractive.

More: National ERASMUS+ Office of Belarus

• Legal basis
For further development of social relations in the field of education, the Education Code of Belarus was adopted on 01 September 2011. It stands for integrity and elaboration of a unified regulatory mechanism in education, arrangement and distribution of the existing regulations, regulatory simplification, and elimination of drawbacks in the educational legislation.


SYSTEM STRUCTURE
• Levels of higher education
Since 2007, a three-level system of tertiary education acts in Belarus. Training on the 1st degree level provides students with the expertise, qualification and Specialist's Diploma (Diplomirovannyj Specialist). Typical 1st degree qualifications awarded by BSUIR are Software Engineer, Systems Engineer, Information Technologies Engineer, Infocommunication Engineer, Specialist in Information Security, Marketing Specialist, and etc.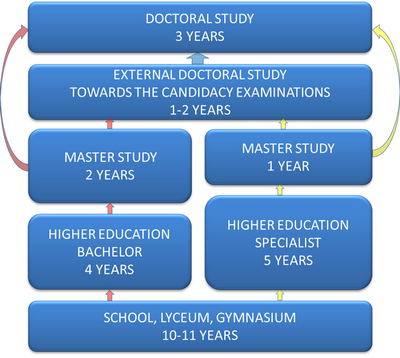 Training on the 2nd (Master's degree) level is fulfilled by two types of programmes: research and professionally oriented Master programmes, confirmed by Master's Degree Diploma (Magistr). Graduates of BSUIR Master's degree programmes are granted the degrees of Master of Science in Engineering, Physics and Mathematics, Informatics and Computer Engineering or Economics.

Graduates of Higher Education Institutions also have the possibility to proceed to the 3rd (postgraduate education) level:

- postgraduate courses 'aspirantura' (civil courses), 'adjunktura' (military courses), 'assistentura' (medical probation period) are confirmed with a Researcher's Diploma, Belarusian Candidate of Science degree (Kandidat Nauk), as well as an internationally recognized PhD degree;

- postdoctoral courses 'doktorantura' that leads to the degree of a full Doctor of Science (Doctor Nauk).

Since 2013, the duration of first degree programmes is generally four years (except for five years in medical and arts HEIs), Master degree programmes last from one to two years. PhD courses usually last three years and may include one additional year of PhD Candidacy course.

Besides, many Universities offer Pre-University Preparation (Foundation year) courses for foreign students who are willing to apply for tertiary education programmes. A number of Belarusian Universities enrol for short- and long-term internships, advanced courses and staff retraining programmes.

• Types of higher education institutions
Higher education is provided by public (state) and private (non-state) accredited higher education institutions. There are four types of HEIs in Belarus: classical university (Universitet), profile university (Akademia), institute (Institut), higher college (Vysshyj colledg).

• Modes of study
Three forms of learning are available at Belarusian HEIs: full-time, part-time and distance (e-learning).

• Mediums of instruction
Main course languages are Belarusian and Russian. Since 2009, students can apply for the English-medium programmes in Belarusian State University of Informatics and Radioelectronics.


RECOGNITION OF BELARUSIAN QUALIFICATIONS ABROAD
Belarusian higher education degrees and qualifications are internationally recognized in more than 80 countries all over the world, including the USA and Canada, countries of Europe and the Commonwealth of Independent States, the Middle East and Asia, and etc. The Belarusian Government has also concluded a number of special agreements with the countries that have a national authority responsible for the recognition of foreign degrees and qualifications, as follows:

- Lisbon Recognition Convention (Convention on the Recognition of Qualifications concerning Higher Education in the European Region, 1997) - in 53 countries, which are all European countries except Monaco and Greece, and Australia, Holy See, Israel, Kyrgyzstan, New Zealand and Tajikistan;

- Separate agreements on mutual recognition and equivalence of educational diplomas and certificates, degrees and titles with 14 countries, which are the Commonwealth of Independent States, China, Poland, and Vietnam.
FACTS & FIGURES

• One of the highest student-to-population ratios in the CIS - 467 students per 10,000 people
• 99.7% of the Belarusians are literate
• The 50th place in the Human Development Index in 2019
• The 73rd in the Legatum Prosperity Index 2019 and the 32nd in the level of education
• 45 public and 9 private HEIs
• Student to faculty ratio 1:10
• Over 23,000 of international students studying in Belarusian HEIs in the academic year 2019-2020

More: Studies of the Belarusian Higher Education by Education, Audiovisual and Culture Executive Agency (EACEA, EU)